By dev
In May 2023, PICC was approached to provide its perspective on Industry 4.0 in the thematic supplement 'Focus on Modern Industry.'
In this article published in PME Magazine, PICC emphasizes the absolutely central role of humans at the heart of Industry 4.0. So, how can we simplify the work of employees to allow them to focus on activities that generate the most added value for the company?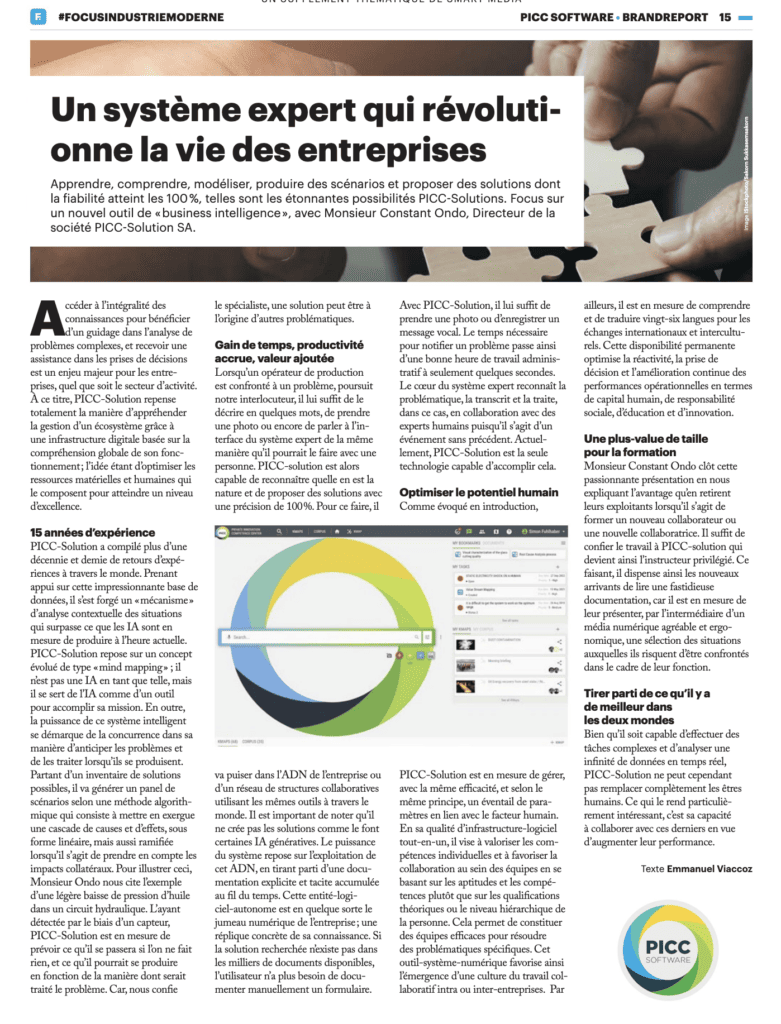 Indeed, the article describes that PICC's approach is not just about AI; it uses AI as a tool to accomplish its mission. PICC has the ability to collaborate with humans to enhance their performance.
Thus, PICC enables:
Capturing and accessing the entirety of the company's know-how to provide guidance in analyzing complex problems and offering assistance in decision-making.
Anticipating problems and addressing them when they occur, providing solutions with 100% accuracy.
Capitalizing on feedback and reducing the time needed to identify a problem from hour of work to just a few seconds.
As an all-in-one software infrastructure, PICC aims to enhance individual skills and promote collaboration within teams.
PICC thus fosters the emergence of a culture of collaborative work within or between companies. Moreover, it can understand and translate twenty-six languages for international and intercultural exchanges.
This constant availability optimizes responsiveness, decision-making, and continuous improvement of operational performance in terms of human capital, social responsibility, education, and innovation.
You can find the content of the article here