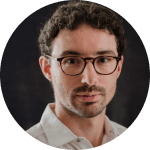 SIMON FUHLHABER
CTO & Co-founder
Simon is an expert in software engineering who started his career working on an ambitious project : translating systematic innovation principles into algorithms to provide companies with a software that could help them secure and accelerate their innovation process.
The project, led by a consortium composed of Alstom, ArcelorMittal, EADS and INSA Strasbourg and involving 10 researchers in linguistics, AI, algorithms and innovation methods, gave birth to a groundbreaking software called STEPS after 4 years of intensive work.
As CTO, Simon fed PICC SOFTWARE with its experience and is now committed to pushing the boundaries of our collective intelligence platform to respond to all the needs expressed by customers.